UN Chief Negotiator To Meet Kosovo's Albanian Leaders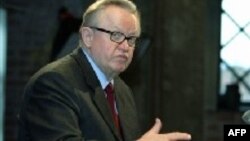 Martti Ahtisaari (file photo) (AFP) 22 November 2005 - The United Nations' envoy charged with negotiating Kosovo's future status is scheduled to meet ethnic Albanian leaders today, including President Ibrahim Rugova.
Martti Ahtisaari is also scheduled to meet Serb religious leaders in the Serbian province later today.
Ethnic Albanians, who make up 90 percent of Kosovo's population, seek the territory's independence, while Serbs strongly oppose this outcome.
The UN has run Kosovo since 1999, when Serbia lost control of the province after a NATO military campaign.
(AP)

SUBSCRIBE
For a regular review of politics, media, and RFE/RL broadcasts in the western Balkans,
subscribe to "RFE/RL Balkan Report."