Issam Ghzawi, spokesman for the Amman-based defense team, told dpa news agency that the lawyers will attend the judicial proceedings that are due to resume in Baghdad on 28 November.
Security concerns surrounding the trial have been highlighted by the killing of two lawyers who were defending two of Hussein's top aides.
Hussein and his seven co-defendants are charged with crimes against humanity in the deaths of 148 Shi'ite men in Al-Dujayl in 1982 following a failed attempt on the Iraqii dictator's life.
(dpa)
Saddam Hussein Biography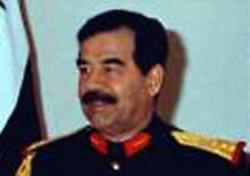 For a timeline of former Iraqi President Saddam Hussein's life from his rise within the ranks of the Ba'ath Party and the Revolution Command Council to his regime's ruthless persecution of perceived enemies at home and abroad, click here.