The proposal that the 35-member board agreed at a meeting on 24 November in Vienna to consider would allow Iran to use uranium processed in Russia for its nuclear program.
Briton Peter Jenkins was one of several envoys to the UN nuclear watchdog agency who expressed guarded optimism about the decision to review the Russian proposal.
But he warned that "Iran should not conclude that this window of opportunity will remain open in all circumstances."
"Time is running out," Jenkins said. "We urge Iran to consider the Russian idea seriously and also to step up its cooperation with the IAEA."
The United States and European Union are concerned Iran is using its nuclear program to build nuclear weapons. But Iran insists its program is strictly for generating electricity.
(AFP/Reuters/AP)
U.S. IAEA Governor Gregory Schulte
U.S. IAEA Governor Gregory Schulte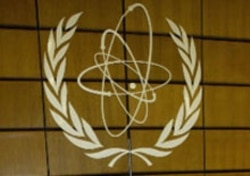 THE INTERNATIONAL COMMUNITY SPEAKS: Listen to excerpts from a November 22 Radio Farda interview with Gregory Schulte, the U.S. representative on the Board of Governors of the International Atomic Energy Agency (IAEA).


LISTEN
Listen to the complete interview:
Real Audio
Windows Media
THE COMPLETE STORY:
For RFE/RL's complete coverage of controversy surrounding Iran's nuclear program,
click here.
CHRONOLOGY: An annotated timeline of Iran's nuclear program.