OSCE: Kazakh Election Obligations Not Met Ahead Of Vote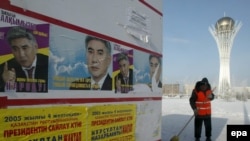 Campaign posters in Astana (epa) 3 December 2005 -- The Organization for Security and Cooperation in Europe (OSCE) said today that Kazakhstan has not met all its obligations for ensuring free presidential elections tomorrow.
The OSCE said the Kazakh government has not fulfilled most of the 24 recommendations made in an OSCE report on preparations for the election.
Spokeswoman Urdur Gunnarsdottir said the government has implemented only "a few of the recommendations."
A top official from the Kazakh Central Election Commission, Marat Sarsembaev, denied the accusations, saying Kazakhstan has fulfilled all 24 recommendations.
Sarsembaev said that OSCE's criticism "caused bewilderment." He said the OSCE had shown a "lack of objectivity and one-sidedness in the evaluation of the process, including of the political process in our country."
(AFP)