Election commission Chairman Onalsyn Zhumabekov today said Nazarbaev's closest challenger -- Zharmakhan Tuyakbai of the For a Just Kazakhstan movement -- received 6.6 percent of the vote.
Zhumabekov said final results are not due for another 10 days but will not likely vary significantly.
Shortly after the announcement, Nazarbaev told a rally in an Astana sports center that his reelection to another seven-year term is "a victory for the country, for all Kazakhs."
Nazarbaev -- who has ruled the country since 1989 -- vowed to double salaries and pensions during his next term, and to bring per capital income to the level of Eastern European countries.
Tuyakbai and at least one other candidate have disputed the results, saying they have information of numerous election irregularities.
The Organization for Security and Cooperation in Europe is due to issue its report on the election later today.
(Reuters/AFP/AP)

The Voting In Images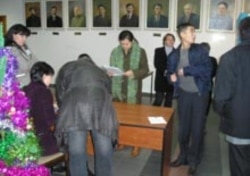 Workers at Almaty polling station No. 310 registering election monitors prior to the opening of voting on December 4


To see more images collected by RFE/RL's Kazakh Service during the voting on December 4,
click here.



RFE/RL's complete coverage and background of Kazakhstan's presidential election on December 4, 2005.