Addressing supporters in the capital Astana on 5 December, Nazarbaev said the Kazakh people had voted for stability rather than revolution.
The presidents of Tajikistan and Kyrgyzstan, Imomali Rakhmonov and Kurmanbek Bakiev, respectively, congratulated Nazarbaev, saying his victory shows the Kazakh people support the policies carried out under his leadership.
Election observers have stated conflicting views about the fairness of the poll.
The Organization for Security and Cooperation in Europe (OSCE) said it did not meet international democratic standards.
Bruce George from the observer mission from the OSCE's Office for Democratic Institutions and Human Rights (ODIHR) said in Astana that not all the commitments made to the OSCE had been met.
"Despite some improvements in the election administration prior to election day, the 4 December presidential election in Kazakhstan did not meet a number of OSCE commitments and other international standards for democratic elections," George said.
The United States gave the election mixed reviews, saying it showed "significant" progress in democratic procedure but still fell short of international standards.
However a British parliamentary group that monitored the election said that it saw no reason to doubt the integrity of the vote. The group, led by former government minister Lord Cecil Parkinson, called the vote "the freest, fairest, and certainly the most transparent" election in Kazakhstan's history as an independent state.
(Khovar/AKIpress/dpa/AFP)
The Voting In Images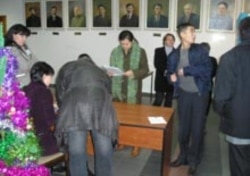 Workers at Almaty polling station No. 310 registering election monitors prior to the opening of voting on December 4


To see more images collected by RFE/RL's Kazakh Service during the voting on December 4,
click here.



RFE/RL's complete coverage and background of Kazakhstan's presidential election on December 4, 2005.