At Least 27 Cadets Killed In Baghdad Suicide Attack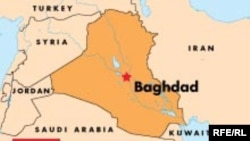 (RFE/RL) 6 December 2005 -- The U.S. military says at least 27 Iraqi police cadets were killed and another 32 wounded today when two suicide bombers blew themselves up inside a Baghdad police academy.
The U.S. military statement said the two suicide bombers -- both women -- walked into a classroom inside the academy and detonated their suicide vests in the midst of students.
The attack comes just nine days before Iraq is due to hold national elections.
(Reuters/AFP)