Russian Radicals Given Jail Terms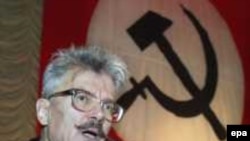 Eduard Limonov (file photo) (epa) 8 December 2005 -- A Moscow court sentenced 39 members of the banned National Bolshevik Party (NBP) to between 18 and 42 months in jail on charges of taking part in mass unrest.
The Russian ITAR-TASS news agency reports from the courtroom that 31 of the defendants were given suspended sentences. In his closing speech, the state prosecutor had demanded maximum prison terms of five years.
On 4 December 2004, the 39 defendants forced their way into one of the buildings of the presidential administration in Moscow. The NBP, which is known for its flamboyant anti-government protests, is led by Russian writer Eduard Limonov. It is believed to have several thousands followers.
The NBP was outlawed in June on extremism charges. Russia's Supreme Court confirmed the ban last month.
(ITAR-TASS/Interfax)