Iraqi Premier Supports Dialogue With Insurgents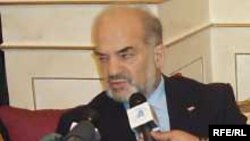 Iraqi Prime Minister Ja'fari (file photo) (RFE/RL) 11 December 2005 -- Iraqi Prime Minister Ibrahim al-Ja'fari has said he supports the principle of dialogue with the insurgents in Iraq, but the terms of such talks need to be approved by the government.
Al-Ja'fari's comments to a London-based daily (al-Hayat) came days before Thursday's general elections.
Meanwhile, Interior Minister Bayan Baker Solagh announced measures to ensure that the vote takes place with a minimum of violence. They include a five-day public holiday, a ban on weapons carrying, nighttime curfews and a closure of land borders and airports from Tuesday until Friday.
Also today, the U.S. military said an American soldier was killed by a roadside bomb in Baghdad.
In Britain, the government said it had received no sign of a resolution of a hostage crisis in Iraq involving four Western aid workers.
The two Canadians, the American, and the Briton were captured more than two weeks ago. A deadline for their execution has passed without news on their fate.
compiled from agency reports)