Report: Ukraine Not To Invite CIS Observers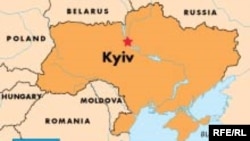 (RFE/RL) 13 December 2005 -- Ukraine's Foreign Ministry says Kyiv does not plan to invite observers from the Commonwealth of Independent States to parliamentary elections next year.
Ministry spokesman Vasyl Filipchuk made the announcement today. He said that the assessment of the CIS observer mission at the parliamentary elections in 2002 and the presidential election in 2004 had differed in principle from the assessments given by other international observers and had not been impartial.
Ukraine's parliamentary elections are set for 26 March 2006.
(Interfax/ITAR-TASS)

An archive of RFE/RL's reporting and analysis on Ukraine's Orange Revolution.
REVOLUTION IN THE AIR: Listen to an audio portrait of the Orange Revolution from RFE/RL's archives.
Real Audio Windows Media