UN Court Denies Milosevic Request For More Time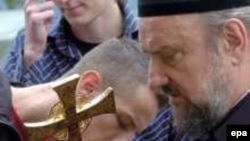 Serbian Orthodox priest praying at the Srebrenica cemetery, July 2005 (epa) 13 December 2005 -- The UN war crimes tribunal in The Hague has denied former Yugoslav President Slobodan Milosevic's request for more time to prepare his concluding defense.
Milosevic, who suffers chronic heart ailments and high blood pressure, is defending himself against 66 counts of war crimes committed in Kosovo, Bosnia, and Croatia during the 1990s.
The UN judges accused him on 13 December of seeking to draw out the trial by focusing on Kosovo, deliberately leaving little of his allotted time to deal with Croatia and Bosnia so that the court would grant him an extension.
They also ruled that they would keep to its original plan to try Milosevic on all three of his indictments simultaneously, rather than split his trial in two.
On 12 December, the judges extended the normal three-week winter recess to six weeks in order to give Milosevic more time to rest.
(AP/Reuters)

SUBSCRIBE
For a regular review of politics, media, and RFE/RL broadcasts in the western Balkans,
subscribe to "RFE/RL Balkan Report."