Putin, Yushchenko Call For Deal On Transdniester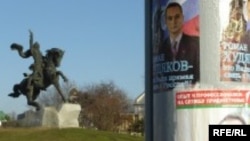 Scene from Transdniester's parliamentary elections, 11 December 2005 (RFE/RL) Prague, 15 December 2005 (RFE/RL) -- The presidents of Russia and Ukraine today called for a peaceful solution to the dispute over the sovereignty of Transdniester, a breakaway region of Moldova.
Russian President Vladimir Putin and his Ukrainian counterpart, Viktor Yushchenko, say their countries are determined to continue working actively to help resolve the conflict between Moldova and Transdniester. In a statement issued on 15 December, the two leaders said they will coordinate initiatives aimed at quickly reaching a comprehensive and final settlement.
The two leaders also welcomed the resumption of the negotiation process and say the dispute will be resolved by a deal made "on the basis of Moldova's sovereignty and territorial integrity."
Transdniester broke away from Moldova in 1990. Most of the region's residents are Russian-speakers.
Moldova is demanding that Russia withdraw the 1,500 troops it has in Transdniester.

RFE/RL Belarus, Ukraine, And Moldova Report

SUBSCRIBE For weekly news and analysis on Belarus, Ukraine, and Moldova by e-mail,
subscribe to "RFE/RL Belarus, Ukraine, And Moldova Report."