Iran's President Threatens To Block Nuclear Inspections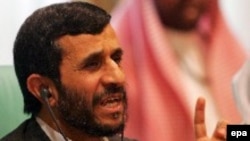 President Ahmadinejad (file photo) (epa) 17 December 2005 -- Iran's semi-official Fars news agency reported today that President Mahmud Ahmadinejad has signed legislation that could restrict UN inspections of Iran's nuclear sites.
The new law requires the government to stop all voluntary and non-legally binding measures if Iran is referred to the UN Security Council. Fars reported that Ahmadinejad signed the law on 13 December.
Earlier, leaders of the European Union's 25 member states said in a statement that time is running out for a diplomatic solution to the Iranian nuclear crisis.
They also condemned as "wholly unacceptable" Ahmadninejad's call for the eradication of Israel and his denial of the World War II Holocaust of Jews.
Meanwhile, Russia's ambassador to Iran today called on Iran to act with full transparency on the nuclear issue to gain the trust of the world community.
Ambassador Aleksandr Sadovnikov's remarks were cited in the "Tehran Times."
(news agencies)

THE COMPLETE PICTURE: RFE/RL's complete coverage of controversy surrounding Iran's nuclear program.
CHRONOLOGY
An
annotated timeline
of Iran's nuclear program.