Iran's Nuclear Program Must Be Stopped, Says Bush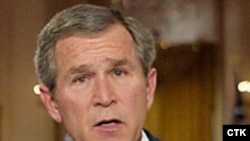 Bush acknowledged mistakes in pre-war intelligence (CTK) 19 December 2005 -- U.S. President George W. Bush said today Washington remains committed to diplomacy to keep Iran from acquiring nuclear weapons.
Bush also acknowledged that mistaken intelligence on Saddam Hussein's weapons programs in Iraq makes it more difficult to persuade the public that Iran's nuclear program poses a threat.
Bush's remarks, at a press conference in Washington, came two days before Britain, France, and Germany are due to have fresh talks with Iran on its controversial nuclear program.
A spokeswoman for EU foreign policy chief Javier Solana said today the talks would take place "discreetly" in Vienna.
Gholam Reza Aghazadeh, head of Iran's Atomic Energy Organization, said his country will bring new proposals to the talks. But he said Iran's right to develop a nuclear power program must be recognized.
(AP/dpa)


SUBSCRIBE For regular news and analysis on Iran by e-mail,
subscribe to "RFE/RL Iran Report."