The party released a statement today saying that the Astana city court had rejected their petition to overturn the Justice Ministry's decision not to allow the party to register.
The party's statement called the Astana city court's decision quote "illegal and anticonstitutional."
Naghyz Ak Zhol is a splinter party of the Ak Zhol party, formed after Ak Zhol leader Alikhan Baimenov cast out several other leaders in the party earlier this year.
Meanwhile, Bakhutgul Makimbay, the editor in chief of the opposition newspaper "Juma Times-Data Nedeli," told RFE/RL today that she received a letter from the Almaty Interregional Economic Court ordering the newspaper's activities temporarily suspended.
Kazakh authorities confiscated all copies of the newspaper at least three times before and after presidential elections in the country earlier this month.
(RFE/RL's Kazakh Service/AP)
The Voting In Images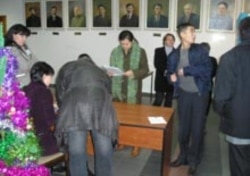 Workers at Almaty polling station No. 310 registering election monitors prior to the opening of voting on December 4


To see more images collected by RFE/RL's Kazakh Service during the voting on December 4,
click here.



RFE/RL's complete coverage and background of Kazakhstan's presidential election on December 4, 2005.