International observers have described those polls as flawed.
In a statement today, the opposition movement For a Just Kazakhstan said it had asked the country's highest court to declare the election illegal and invalid.
The official results showed 91 percent of voters favored another seven-year term for Nazarbaev, while the leading opposition candidate, former speaker of parliament Zharmakhan Tuyakbai, got 6.6 percent of the vote.
Tuyakbai called the result an obvious sign that the oil-rich Central Asian state is "turning from an authoritarian regime into a totalitarian one."
Tuyakbai's supporters have filed 1,204 complaints about alleged electoral breaches with various courts.
(Reuters)
The Voting In Images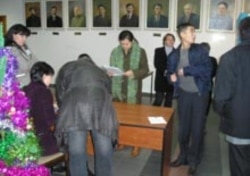 Workers at Almaty polling station No. 310 registering election monitors prior to the opening of voting on December 4


To see more images collected by RFE/RL's Kazakh Service during the voting on December 4,
click here.



RFE/RL's complete coverage and background of Kazakhstan's presidential election on December 4, 2005.