Kazakh Oil Starts Flowing Toward China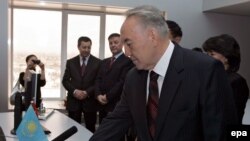 Kazakh President Nazarbaev brings the Atasu-Alashenkou pipeline onstream (epa) 15 December 2005 (RFE/RL) -- Kazakh oil is now flowing to China, after President Nursultan Nazarbaev today brought a $700 million pipeline onstream.
The president said the pipeline was of the "utmost importance" for economic and commercial relations between China and Kazakhstan, recalling that "when I spoke about [the pipeline] for the first time in 1997, everybody thought that it was a utopia, that it was impossible to do. During the years of its independence, Kazakhstan has been turning utopias into reality."
The 1,000 kilometer pipeline links Atasu in central Kazakhstan to Alashankou on the Chinese border. Nazarbaev put the pipeline into operation by pressing a button in the capital Astana.
The pipeline is operated by a joint venture between Kazakhstan's KazMunaiGaz and the China National Petroleum Corporation, both state-run energy companies.
Plans call for the pipeline to eventually carry some 20 million tons of oil to China each year.
At a ceremony in Atasu, Kazakh Oil Minister Vladimir Shkolnik said the launch was the start of a long road to bring big Kazakh oil "to the East."
(with agencies)