Prague, 15 December 2005 (RFE/RL) -- The Forum for Conflict Prevention in Central Asia opened yesterday in Dushanbe with UN representative Vladimir Goryaev focusing delegates' attention on the agenda.
"As you know we brought to the agenda very delicate and extremely important issues," he said. "The issues related to coordination of international cooperation with the Central Asian governments in combating extremism, international terrorism, drug trafficking, and organized crime."
Yet two days seemed hardly enough to discuss such key issues among not only from the region's five governments, but also from Afghanistan, the United Nations, the Organization for Security and Cooperation in Europe (OSCE), NATO, and the Shanghai Cooperation Organization.
Speaking yesterday, speakers highlighted their concern that security issues in Central Asia need to be addressed. Sirojiddin Komilov, the deputy director of Tajikistan's Institute for Strategic Studies, said cooperation among the region's countries was the key to resolving security problems.
"The creation of an effective mechanism of cooperation for the peoples of Central Asia is of vitally important significance. And the future of the region depends on this cooperation successfully becoming an organic part of the region itself," Komilov said.
All speakers agreed that a mechanism for greater cooperation was essential to security in the region. Afghan Deputy Foreign Minister Mohammad Haidar Rizo said the problems under discussion had nearly destroyed his country.
"The one country that has suffered the most as a result of terrorism and extremism and drug trafficking is Afghanistan. Afghanistan was hit at the very base, destroying its lifeline, its infrastructure, economy, human resources and its identity and place among the international community," Rizo said.
Kazakhstan's ambassador to Tajikistan, Yerbol Shohimardonov, agreed that terrorism, narcotics, and organized crime were the biggest threats to security. But he said the vehicle for spreading these plagues was often illegal migration.
"Illegal immigration aids the spread of the narcotics business, the illegal transportation of weapons and other forms of organized crime. Unfortunately, the norms and national legislation of Central Asian governments are not harmonized to take needed steps against illegal immigration," Shohimardonov said.
Uzbekistan, meanwhile, has recently been criticized for its tactics in fighting terrorism that are perceived by many as excessive. But Uzbekistan's ambassador to Tajikistan, Shoqosim Shoislomov, said one of the main obstacles to between the region's countries and the international community was the latter's failure to fully understand the Central Asian region.
"[There are] several international organizations that do not always fully or deeply grasp the situation in the region. [They view] our history, traditions, our customs and our respect for our roots as being backwards, or [representing] a lack of desire to travel along the path of civilization and embrace democracy," Shoislomov said.
Some of the delegates, notably Turkmen First Deputy Foreign Minister Iklimberdy Paromov, used their speeches to tout their country's progress in eliminating the problems being discussed at the forum.
At the close of the forum today, Komilov, the director of Tajikistan's Institute for Strategic Studies, proposed setting up a regional center for coordinating activities against terrorism. Afghan representative Muhammad Ibrohim Ghafuri agreed with the idea and made a suggestion of his own. "The countries-participants should prepare a list of terrorist and extremist organizations active in their countries," he said.
Ghafuri said such a list would help regional governments identify potential threats not only to themselves but neighboring states as well.
But UN representative Goryaev said that by discussing such key issues, the region is effectively taking steps toward resolving its security problems.
(Salimjon Aioub and Mirzonabi Kholiqzod of RFE/RL's Tajik Service contributed to this report)
Uzbekistan's Ambassador To Tajikistan
Uzbekistan's Ambassador To Tajikistan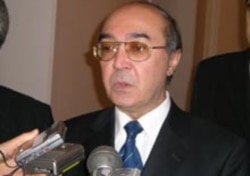 SHOQOSIM SHOISLOMOV, Uzbek ambassador to Tajikistan, spoke with RFE/RL Uzbek Service correspondent Habibullo Botirov on 14 December in the Tajik capital Dushanbe at a conference called the Forum For The Prevention Of Conflicts In Central Asia.
RFE/RL: Mr. Ambassador, at the opening session of this forum, you gave a speech and said that international organizations do not know the region of Central Asia very well and they often make wrong assessments of events in the region. What can you add to that statement?
Shoislomov: Yes, it is true that the region has many problems. But unfortunately, most employees of international organizations have never lived here. They don't know our life, our traditions, and customs. They don't have a deep knowledge [of the region]. Therefore, in their [reports], they portrait us as underdeveloped and backward. [Although], we can teach them 10 times more than they can teach us. There is such a thing as competency. They lack competency. These shallow opinions of theirs get reflected in some documents. They stigmatize us. Of course, we can never accept the stigma. One should think before putting opinions on paper.
The Central Asian states have 1,000 years of history. We face the hardest task in the war against religious extremism. When [the West] says it fights against religious extremism, they mean Islam. They try to portray our religion, Islam, from an absolutely different perspective in the world. In their opinion, Islam is an extremist religion. They try to say that it is a religion that goes against the West, against the whole world. Unfortunately, people in Western countries may accept these cliche.
RFE/RL: Erbol Shaimardanov, adviser to Kazakhstan's foreign minister, and some other participants said in their opening statements that Hizb ut-Tahrir has been included in the list of terrorist organizations. However, the organization can operate freely in some countries. How would you comment on this?
Shoislomov: It's a very correct question. If you want to fight against religious extremism, you should start with Hizb ut-Tahrir. But look at England itself. This summer it became a target of terrorist attacks. Hizb ut-Tahrir has its headquarter in London. [The British government] has given complete freedom to them. How can you understand it? We [the Uzbek government] has offered to everybody to fight against Hizb ut-Tahrir. As you see, many states have made a correct assessment of Hizb ut-Tahrir. But there are some governments, which consider themselves democratic, who gave complete freedom to Hizb ut-Tahrir. How can we treat an organization that comes from those countries and plot terrorist attacks on our territory? It's difficult to understand this. And they try to blame us for something.
See also:
Hizb Ut-Tahrir Challenges U.K. Government's Proposed Ban With Offer Of Dialogue
Uzbek Ties With Kyrgyzstan Worsen Amid 'Terror' Accusations
Uzbek Security Service Steps Up Work In Neighboring Countries