Tehran Arrests 14 Pro-Union Bus Drivers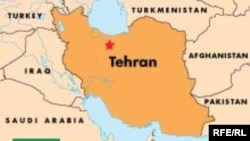 The bus drivers had been protesting for months (RFE/RL) Washington, 22 December 2005 (RFE/RL) -- Iranian authorities have arrested 14 members of a group representing thousands of Tehran bus drivers for engaging in "illegal activities."
The group has been staging protests for months as part of efforts to form an independent union and have wages paid.
Among those arrested today was group leader Mansour Osanloo and an associate, Mansour Hayat-Ghaybi. Maryam Hayat-Ghaybi told Radio Farda that government agents searched her house, seizing all documents related to her husband's union activities.
"(The agents) only told me I should not be worried, he is safe," she said. "They told me they took my husband to ask him a few questions. They said he would be back soon but they did not tell me where he is now and how we can pursue his situation."
An official of the bus drivers' syndicate told Radio Farda that drivers will begin new work stoppages on 25 December if those arrested are not released.
(RFE/RL/Radio Farda)


SUBSCRIBE For regular news and analysis on Iran by e-mail,
subscribe to "RFE/RL Iran Report."