Ukrainian President Visits Troops In Iraq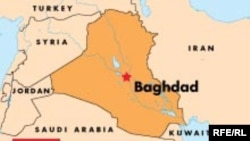 (RFE/RL) 26 December 2005 -- The office of Ukrainian President Viktor Yushchenko says the president is paying an unannounced one-day visit to Iraq today to visit his country's troops there.
The visit comes amid the pullout of the remaining 867 Ukrainian troops from Iraq where they served as a part of the U.S.-led coalition, under Polish command in southern and central Iraq.
Presidential spokeswoman Irina Gerashchenko said Yushchenko plans to visit the remaining troops at the Ukrainian headquarters in the town of Al-Kut and to witness the handover of surplus weapons, ammunition and equipment to the Iraqi military.
Yushchenko is also to meet key coalition commanders and top Iraqi officials including Prime Minister Ibrahim al-Ja'fari.
Ukraine's Defense Ministry said today that a total of 455 troops have already arrived home.
All are due home by 30 December. Eighteen Ukrainian soldiers have died and 32 have been wounded in Iraq.
(AP)