A court in the northern Pavlodar region granted early release to Galymzhan Zhaqiyanov for good behavior on 14 December.
But the Prosecutor-General's Office said today a special prosecutor for penal institutions appealed the decision on 21 December because of Zhaqiyanov's alleged gross violations of prison rules.
The opposition coalition For a Just Kazakhstan said the appeal was arbitrary.
Zhaqiyanov founded the Democratic Choice of Kazakhstan party in 2001. He was sentenced to seven years prison the following year on abuse of power charges while being the governor of Pavlodar region.
Democratic Choice of Kazakhstan was banned in 2004, but Jakyanov joined For a Just Kazakhstan while in prison.
Zhaqiyanov's supporters and rights groups say his imprisonment was politically motivated.
(AP)
A Discussion Of The Kazakh Election
A Discussion Of The Kazakh Election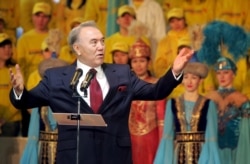 Kazakh President Nursultan Nazarbaev addressomg a rally of supporters on the day following the December 4 vote (epa)

DANGEROUS TO BE IN THE OPPOSITION: On December 8, RFE/RL's Washington office hosted a discussion of the December 4 presidential election in Kazkhstan. RFE/RL Kazakh Service Director MERHAT SHARIPZHAN and RFE/RL Central Asia Analyst DANIEL KIMMAGE participated in the discussion.
Sharipzhan highlighted the difficulties faced by opposition candidates -- including the untimely deaths of prominent opposition leaders -- and argued that they effectively chilled the political environment in the country. He also noted that the government repeatedly confiscated opposition newspapers during the campaign. However, he noted that Kazakhstan's relatively strong economy boosted Nazarbaev's popularity. Kimmage discussed Nazarbaev's pledge to proceed with democratization only after the economy is put in order, describing the political system in Kazakhstan as a form of "managed democracy."
Listen to the complete panel discussion (about 90 minutes):
Real Audio Windows Media



RFE/RL's complete coverage and background of Kazakhstan's presidential election on December 4, 2005.