Moscow Water Park Tragedy Investigation Closes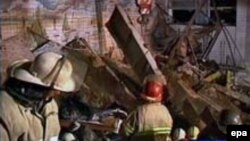 There was a similar tragedy earlier this month when another swimming pool roof collapsed (epa) 27 December 2005 -- Moscow authorities say prosecutors have completed their investigation into a roof collapse that killed 28 people at a water park nearly two years ago.
Chief prosecutor Anatoly Zuyev said in televised comments the investigation blamed the disaster on the architect who designed the building and an official who approved the plans.
Zuyev said the collapse, which also injured more than 100, was caused by a series of design flaws including "crude miscalculations" that made the concrete-and-glass dome over the Transvaal water park unsafe.
He reiterated authorities' statements that no evidence of explosives or any other attack was found after the roof collapsed on swimmers on 14 February 2004.
(AP)