Serbian Refugees Returning To Croatia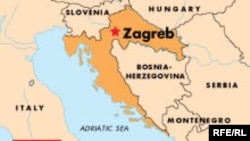 More than 40 percent of Serbs who left during the war have returned (RFE/RL) 27 December 2005 -- About 40 percent of Serbian refugees who fled Croatia during the 1991-1995 Serbo-Croatian war have returned, according to the United Nations.
A spokesman for the UN refugee agency in Zagreb, Neven Crvenkovic, said today that 123,000 Serbs have so far returned to Croatia. He added that the majority had returned from Serbia-Montenegro.
Croatia's proclamation of independence from the former Yugoslavia in 1991 triggered a four-year war with Belgrade-backed rebel Serbs who opposed the move.
(AFP)


SUBSCRIBE
For a regular review of politics, media, and RFE/RL broadcasts in the western Balkans,
subscribe to "RFE/RL Balkan Report."