Prague, 2 January 2006 (RFE/RL) -- The New Year's hangovers may have gone, but, for those involved in the gas dispute, the headaches will continue for some time.
There is still no end in sight for the quarrel about the price Ukraine pays for Russian gas. The row culminated in Russia's state-run gas monopoly Gazprom making good on earlier threats and reducing pressure in its pipeline on 1 January.
Since the cutoff, the war of words has intensified.
In a statement today, Ukraine accused Russia of blackmail, saying Moscow was trying to destabilize the economy of its neighbor.
Speaking to journalists in Kyiv yesterday, Ukrainian President Victor Yushchenko accused the Russian side of breaking previous agreements. "The reduction of gas supply took place not on 1 January but on 31 December, which is a violation of previous agreements and contracts on Russian gas transit and supplies," he said. "We consider this to be a form of direct economic pressure on Ukraine."
The Russian side has accused the Ukrainians of siphoning off gas meant for European consumers.
"We have information from the ground that Ukraine has started unsanctioned siphoning of Russian gas meant for European consumers," Gazprom spokesman Sergei Kupriyanov said yesterday. "Tomorrow we will be able to provide information about the precise volume of gas that has been stolen."
And today Gazprom produced its statistics, saying that Ukraine took around 100 million cubic meters of Russian gas bound for Europe on 1 January.
Ukraine has denied these allegations, saying it is not using a cubic meter of Russian gas. However, Kyiv has said previously that it has the right to take 15 percent of the remaining supplies in the pipelines as payment for transporting the gas to Western Europe.
The finger pointing is nothing new. The gas dispute has burned for months between the two countries.
Gazprom wants Ukraine to pay $230 per 1,000 cubic meters of gas instead of the current $50. Ukrainian leaders have said the country is prepared to pay more, but want to institute the changes gradually. The average EU charge is $240.
Hopes for a last-minute resolution were dashed when Ukraine on 31 January rejected an offer from Russian President Vladimir Putin to postpone the price increases if Ukraine agreed to new terms. Ukraine has called for more talks.
Already European gas consumers are beginning to feel the pinch.
Austria, Hungary, Poland, and Slovakia have all reported reduced gas deliveries from Russia. The Austrian natural-gas company OMV said today that "around a third of the volume has been cut" in supplies flowing from Russia via Ukraine.
The European Union gets about 25 percent of its gas from Russia and 80 percent of all gas exports to Western Europe go through Ukraine.
Most likely to be affected will be industry and big business, rather than ordinary consumers. Most countries will be able to draw on reserves and alternative energy sources to cover the deficit -- but only for so long. It is the potential consequences of a prolonged cutoff that is so worrying for the international community.
Germany, Italy, France, and Austria have made a joint appeal to Ukraine and Russia to ensure that gas flows to Western Europe remain steady.
Speaking yesterday to journalists in Vienna, German Chancellor Angela Merkel appealed for an end to the dispute. "We hope that a sensible arrangement can be found in this dispute [between Russia and Ukraine] and, beyond that, we hope for common sense in neighborly relations between Russia and Ukraine," she said.
A panel of EU energy experts will meet on 4 January to discuss the crisis.
The U.S. State Department has said it regrets Russia's move to cut supplies to Ukraine, noting its potential effects on gas supplies elsewhere in Europe.
State Department spokesman Sean McCormack said yesterday that such an "abrupt step" creates insecurity in the energy sector in the region and "raises serious questions about the use of energy to exert political pressure." He said Washington has told both nations it supports a gradual move toward market pricing for energy supplies.
Relations between Russia and Ukraine have been strained since Ukraine's 2004 Orange Revolution ushered in Westward-leaning President Yushchenko.
Some analysts have said the cutoff is an attempt by Russia to reassert its power in the region. But others have said that Russia is just responding to market conditions and protecting its interests.
Andrei Illarionov, who resigned last week as Russian President Vladimir Putin economic adviser, told Ekho Moskvy radio on 29 December: "The head of the Duma's Foreign Affairs Committee, [Konstantin] Kosachev, has essentially said that these talks will go on at least until the parliamentary elections in Ukraine [in March]. By saying this he has revealed probably one of the most important secrets of this campaign: that the goal of these talks is not to eliminate subsidies for gas consumers in Ukraine -- which under any other circumstances would be the right thing to do, but only if subsidies for Belarus and other consumers, including Russian, were eliminated at the same time -- but obviously these talks have some other goal that is not directly related to the elimination of subsidies."
If no settlement is reached, Ukraine could take the case to the Stockholm-based international arbitration court.
Illarionov's Resignation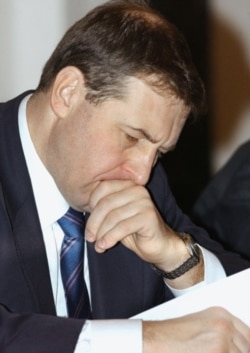 Andrei Illarionov (ITAR-TASS file photo)

Former Russian presidential economy adviser ANDREI ILLARIONOV quit his post in President Vladimir Putin's administration on December 27, saying that he could not work because "the country has stopped being politically free." The same day, Illarionov spoke with reporters in Moscow following a lecture at the Higher School of Economics.
Question: Why did you resign?
Illarionov: More than anything, it has to do with the futility of attempting to implement the policies that I took the job in order to implement. In April 2000, when I accepted the president's invitation to take this post, we were talking about carrying out policies that would broaden economic freedom for Russian citizens -- a policy that would push for the quickest possible economic development.
But this policy, as it was discussed in the spring of 2000, never came to be. Over the past two years we've seen a change away from what I would even call a mainstream policy -- one that maybe wasn't liberal, but that at least had certain rational elements that were possible to support. And that's what we were doing, we were supporting it. But then came a different policy, a different economic model -- the main, central aspect of which is a corporate state. There is no free economic space remaining anywhere in Russia. In this new model, the guiding principles are selectivity, favoritism, and discrimination -- not a level playing field for conducting business, or for life. So, personally speaking, as long as there was still the possibility of having some influence in terms of preventing that kind of policy from taking hold, it was possible to work. But that possibility no longer exists.
I would also say that there is a big difference between working for a government that is maybe not entirely free, maybe only partially free, but which has the chance like any transitional economy to eventually move on to the category of a politically free country. It's a completely different matter to work in a country that qualifies as a politically unfree country.
Question: What next? Will you run in the 2008 presidential election?
Illarionov: To my mind, engaging in politics means a battle for political power, a battle to hold onto political power, a battle to broaden your political power, and a battle with your political competitors. I haven't engaged in that kind of activity for almost the past six years -- the period I've spent advising the president on economic issues. I didn't do it before then, and I don't intend to do it now. Nor have I received any proposals that I do so.
Question: Why are you resigning now and not a year ago, after the sale of the main Yukos subsidiary Yuganskneftegaz to the state?
Illarionov: A year ago, I still had a sense there was a chance and hope. What happened was tragic, but a mistake, and one that at least could be corrected with the proper subsequent steps. I won't hide the fact that I had hoped the Russian Federation's judicial system was not yet affected by the kind of metastasis that seems to have infected the judicial processes that are going on now. But now we can see that this metastasis has penetrated not only the local courts, and the Moscow regional courts, but the Constitutional Court as well. So we have to focus our efforts on pursuing a deep renewal of the government itself and of the judicial system as one of the country's most important political pillars. That hope -- if it was even possible to speak of having such hope a year or so ago -- it's impossible to speak of it now.