Nearly 50 Dead In Day Of Violence In Iraq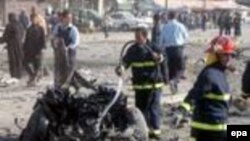 The ruins of a car used by a suicide bomber in Baghdad today (epa) 4 January 2006 -- Nearly 50 people have been killed in a series of attacks carried out in Iraq today.
In the deadliest incident, a suicide bomber blew himself up at a Shi'ite funeral north of the capital Baghdad, killing more than 30 mourners.
At least 40 others were wounded in the attack in the small town of Al-Miqdadiyah, some 100 kilometers northeast of Baghdad. Police say the bomber detonated his explosives in a crowd of about 100 mourners.
In other violence, two car bombs exploded in separate areas of Baghdad, killing at least eight people. Earlier in the capital, a senior Oil Ministry official and his son were shot dead in their car.
There were also deadly bomb or gun attacks in Mosul, Kirkuk, and Al-Aziziyah, southeast of the capital.

(Agencies)