'Several Thousand' U.S. Troops To Leave Iraq And Afghanistan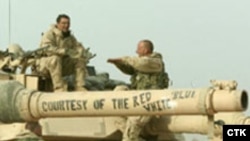 Before the December Iraq elections, 138,000 U.S. troops occupied the country (CTK) 4 January 2006 (RFE/RL) -- U.S. President George W. Bush today confirmed plans to withdraw thousands of U.S. troops from both Iraq and Afghanistan this year.
Bush said improvements in Iraqi security capabilities will alllow U.S. commanders to withdraw "several thousand" troops below the pre-Iraqi election level.
"The adjustment is underway. This adjustment will result in a net decrease of several thousand troops below the pre-
election baseline of 138,000 U.S. troops in Iraq," he said. "The decrease comes in addition to the reduction of about 20,000 troops who were in Iraq to assist with security during the December elections."
But Bush expressed concern about abuses committed by Iraqi police. He said U.S. forces would place new focus on improving the professionalism of Iraqi police, including embedding coalition forces alongside them.
In Afghanistan, Bush said U.S. forces would decline from 19,000 to 16,500 this year. He said this was possible because of NATO plans to increase its force level from 9,000 to 15,000.
(RFE/RL)