Another Bird Flu Outbreak Suspected In Crimea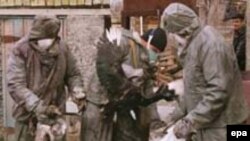 Ukrianian officials at work during a state of emergency declared after an outbreak of bird flu in December 2005 (epa) 5 January 2006 -- Health officials are reporting another outbreak of suspected bird flu in Ukraine's Crimea peninsula.
Mass deaths of poultry had been noted in a village near Simferopol, apparently due to bird flu. Final laboratory results were not yet available but, as a precaution, local authorities have ordered all domestic birds in the village to be killed.
Ukrainian officials also said on 5 January that laboratory results show that bird flu had not caused the death of some 40,000 birds at three poultry farms in the Crimea over the New Year weekend. However, laboratory analyses had not yet identified the cause.
(UNIAN/Interfax Ukraine)
RFE/RL's World: 2005 In Pictures


A slideshow of images related to the top news stories of 2005 from throughout RFE/RL's broadcast region with links to RFE/RL's reporting.
See also:
2005 In Review: Central Asia Witnesses Revolution, Continued Crackdown
2005 In Review: Does The Presence Of Western Election Observers Make A Difference?
2005 In Review: The Geopolitical Game In Central Asia
2005 In Review: Migrants, Refugees Victims Of Incoherent Laws In Post-Soviet States
2005 In Review: The Transformation Of Television In Russia
2005 In Review: Russia's Centralization Gathers Pace
2005 In Review: A Year Of Hopes, Disappointments For Afghans And Iraqis