Bosnian Serb President Condemns EUFOR Operation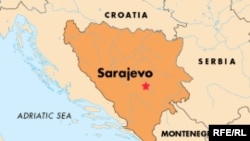 (RFE/RL) 5 January 2006 -- Bosnian Serb President Dragan Cavic condemned an operation by the European Union Force (EUFOR) in his country earlier today that left one person dead and two wounded.
EU peacekeepers wounded war crimes suspect Dragomir Abazovic, his wife Rada, and their 12-year-old son Dragoljub in the shootout near Rogatica.
All three were taken to hospital in the city of Foca. Doctors said Abazovic's wife later died from blood loss.
Cavic said EUFOR needed to immediately conduct an investigation and explain the circumstances that led to the shooting.
Cavic said in a letter to EUFOR commander Italian General Gian Marco Chiarini that no matter what mandate EUFOR was given,"no one has the right to take an innocent human life by force."
(dpa)

SUBSCRIBE
For a regular review of politics, media, and RFE/RL broadcasts in the western Balkans,
subscribe to "RFE/RL Balkan Report."