Bosnia-Herzegovina: The Voice Of Ratko Mladic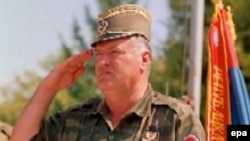 Ratko Mladic at the time of the Bosnian war (epa) RFE/RL has gathered some historical audio of Bosnian Serb General Ratko Mladic from the time of the 1993-95 Bosnian war. The audio was taken from radio intercepts and videotapes shot during the war and form part of the evidence against Mladic that led to his indictment for war crimes by the Hague-based International Criminal Tribunal for the former Yugoslavia (ICTY). International authorities have been seeking Mladic for 10 years.
Audio Clip No. 1: Listen in RealAudio or Windows Media.
A man identified as Mladic speaks with a sniper on an intercepted radio signal, date and location unknown:
Voice: They go like ants...
Mladic: Like ants...
Voice: Yes...
Mladic: Let the snipers work.
Voice: They will work for the whole afternoon.
Mladic: Let them work.
Voice: But we will take out (a target).
Mladic: Take some out, brother, but let the last convoy get out there.
Voice: Understood boss. You will give the signal when to start the blockage.
Mladic: (Laughs) Excellent.
Voice: Understood.
Mladic: Just go for it, 'boss.'
Voice: Good-bye.
Mladic: Good-bye. Into the flesh only.
Audio Clip No. 2: Listen in RealAudio or Windows Media.
Mladic speaking to Bosnian Serb soldiers on the road to Srebrenica on 11 July 1995.
Mladic: Straight to [Srebrenica suburb] Potocari, the Potocari-Bratunac road. Don't stop. Go in front of me. Let's go boys -- forward!"
Audio Clip No. 3: Listen in RealAudio or Windows Media.
Mladic speaking to a video camera after entering Srebrenica on 11 July 1995.
Mladic: Here we are on the 11th of July1995, in Serb Srebrenica, the day before one of the greatest Serbian holidays. We give this town to the Serbian people. The moment has finally come after the uprising against the Dahi [the Turks] to take revenge against the Turks in this place."
Audio Clip No. 4: Listen in RealAudio or Windows Media.
A man identified as Mladic speaking by telephone with an officer named Vukasinovic. The audio was intercepted by a foreign intelligence service during the siege of Sarajevo. Exact date unknown.
Mladic: [This is] General Mladic. Don't panic. Who are you?
Vukasinovic: Vukasinovic .
Mladic: Fire on the presidency and parliament [buildings in Sarajevo] with direct hits. Fire. Do it in intervals, easy, until I order to stop.
Vukasinovic: Understood (Sound of artillery firing)
Mladic: Fire on [the suburbs of] Velesici and also Pofalici. There are not too many Serb people there. Go on with the artillery fire. Don't let them sleep. Let's make them crazy.
Audio Clip No. 5: Listen in RealAudio or Windows Media.
Mladic speaking to Bosnian Muslims in Srebrenica in front of cameras on 11 July 1995, one day before the massacre of an estimated 8,000 Bosnian Muslim civilians.
Mladic: Don't be afraid of anything. Easy. Let the women and the children go first. Thirty buses will be there. We will transport you to Kladanj. Don't be afraid. Nobody will do anything to you.
(translations by Omer Karabeg)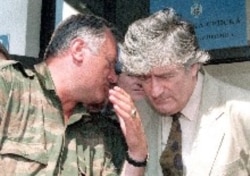 Ratko Mladic (left) confers with Radovan Karadzic during a meeting in Pale in 1993 (epa)


READ
Ten years have passed since former Bosnian Serb leader
RADOVAN KARADZIC
and his former military commander General
RATKO MLADIC
were indicted by the Hague-based war crimes tribunal for genocide and other war crimes. The two fugitives remain at large, despite the obligation of NATO-led peacekeepers and the various governments in the region to arrest the indictees and send them to The Hague. Many people wonder why the most powerful military alliance in history and a host of governments seeking Euro-Atlantic integration remain unable to catch the two
... (more)
LISTEN
To listen to wartime audio of Ratko Mladic,
click here.
See also:
Wife Of Ex-Bosnian Serb Leader Urges Him To Surrender
War Crimes Tribunal Judge Says Trials To Exceed 2008 Deadline
Net Tightens Around Key Serb War Crimes Suspect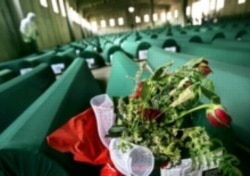 Coffins of Srebrenica victims being prepared for burial in October (AFP)

SREBRENICA: The July 1995 massacre of some 7,000 Muslim men and boys by Bosnian Serb fighters near the UN-designated safe haven of Srebrenica is the worst atrocity of its kind in Europe since the end of World War II. Since the incident, the name Srebrenica has become practically synonomous with ethnic cleansing....(more)
See also:
Coming To Grips With The UN's Failure At Srebrenica
Child Of Srebrenica Returns Home For Anniversary Of Massacre