Three Suspected Militants Killed In Kabardino-Balkaria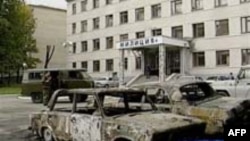 The scene outside Nalchik police station after the October attacks (AFP) 6 January 2006 -- Authorities in Russia's southern republic of Kabardino-Balkaria say security forces have killed three suspected participants in last October's militant raid on the regional capital Nalchik.
An Interior Ministry spokeswoman, Marina Kyasova, said the three men were killed today in the village of Anzorei after resisting arrest. She said that one of the suspected militants was a resident of Kabardino-Balkaria and that the other two were foreigners.
Kabardino-Balkaria's prosecutor Yurii Ketov said he believed the three men were among those who helped organize the 13 October raid.
The attack triggered two days of street fighting that resulted in the death of 140 people.
Security officials say more than 60 people have been arrested in the aftermath of the raid. But rights campaigners say the number of detainees is much higher.
(ITAR-TASS/RIA-Novosti/newsru.com)