Three Jailed For Attack On North Caucasus Anti-Drugs Office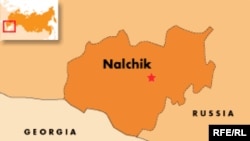 (RFE/RL) 29 December 2005 -- A court in Kabardino-Balkaria has convicted three men for an attack in December 2004 on the offices of an anti-narcotics agency in Nalchik, capital of the Russian North Caucasian republic.
The three were found guilty of killing four staff members before making off with weapons.
The three received jail sentences ranging from eight to 14 years, as well as fines of 500,000 rubles ($17,400).
(AFP)