Former Kabardino-Balkaria President Dies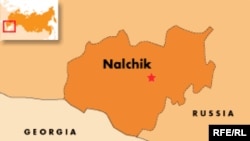 (RFE/RL) 29 October 2005 -- Kabardino-Balkaria's former president, Valerii Kokov, has died at age 64.
Kokov died last night after battling ill health for several weeks.
Kokov was president of the southern Russian republic from January 1992 until last month when his failing health forced him to step down.
A commission was formed to prepare a state funeral for Kokov.
Kokov's funeral is scheduled for tomorrow at his family's cemetery in the village of Dugulgbei. A state-sponsored memorial service will be held in the republic's capital Nalchik tomorrow morning.
Kokov's death comes at the end of a month which saw violence break out in Nalchik. Militants with ties to Chechen separatists staged attacks in Nalchik on 13 October and more than 100 people were killed before order was restored.
(Agencies)