Officials Say Nalchik Attackers May Have Sought Planes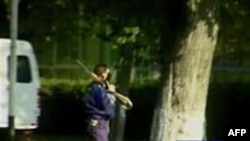 Police battling militants in Nalchik on 13 October (AFP) 28 October 2005 (RFE/RL) -- Russian Deputy Prosecutor-General Nikolai Shepel said today his office is investigating allegations that militants who staged attacks earlier this month in the southern city of Nalchik planned to seize passenger airplanes and use them in further terrorist attacks.
Shepel said according to information his office gathered, the militants planned to attack 40 different sites in Nalchik, the capital of the southern republic of Kabardino-Balkaria.
One of the sites attacked was the Nalchik airport. Shepel said investigators were looking into claims the militants sought to use civilian planes in further attacks.
At least 139 people died in the attacks in Nalchik on 13 October and the two days of fighting that followed. Most of those killed were militants.
Chechen field commander Shamil Basaev said he was behind the attacks.
(Interfax.AP)

A slideshow look at the October 13-14 violence in Nalchik, capital of the Russian North Caucasus Republic of Kabardino-Balkaria.