Kosovo's Prime Minister Visits Serbian Community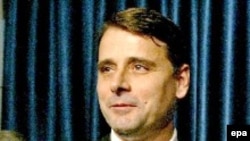 The prime minister shared a holiday drink with Serbs in Prishtina (file photo) (epa) 6 January 2006 -- Kosovo's ethnic-Albanian prime minister today paid a visit to representatives of the province's Serb community on the eve of their celebration of Christmas.
Bajram Kosumi spent time with a Serb family at their home in Prishtina. He wished them a Merry Christmas but also said he was there to see what problems they are facing.
Kosumi distributed sweets and chocolate for the children of the family, and sat down for a drink of rakija, a strong, local alcoholic beverage, with the adults.
The international community is pressuring Kosovo's leaders to ensure that Kosovo's Serb minority are offered a viable future in the disputed province, which is under United Nations administration but is still a part of Serbia.
(Reuters)

SUBSCRIBE
For a regular review of politics, media, and RFE/RL broadcasts in the western Balkans,
subscribe to "RFE/RL Balkan Report."