20 December 2005 (RFE/RL) -- Talks on the final status of the Serbian province of Kosovo will begin in January, UN special envoy Martti Ahtisaari said on 20 December.
Speaking in the UN's New York headquarters, Ahtisaari said he wanted the first round of talks between Serbian and Kosovar officials to focus on improving the conditions for minorities in the mainly ethnic Albanian province, rather than on the status of Kosovo itself.
"It is very difficult to find any cooperation if people don't feel that they have a brighter economic future."
Earlier in December, during a visit to Pristina, the largest city in the province, Ahtisaari urged ethnic Albanian leaders to put more effort into carrying out reforms outlined in the "standards process," a process in which the performance of the Kosovo will be measured against a set of criteria that include the protection of minority rights. Legislative changes may be needed if the conditions for Serbs and other minorities are to improve, Ahtisaari said.
Ahtisaari's message to Belgrade was that it should be "realistic" and endorse Kosovo Serb participation in local government efforts.
"At the moment, we are trying to see that, from this standards process, we [can] create minimum conditions where people can confidently live, whether they are Serbs or other minority groups," Ahtisaari said, adding that creating these conditions could not be achieved by the Kosovo Albanians alone. "That is the point we have been making [to the Serbs], that non-participation will not help."
In a recent interview with RFE/RL, Kosovar Prime Minister Bajram Kosumi stated that his government is offering Serbs and other minorities full legal equality. An independent Kosovo would, he maintained, be able to provide constitutional guarantees that the cultural and ethnic values and identities of all minority ethnic groups would be preserved and protected.
Resolving the overarching issue of Kosovo's final status will be difficult, Ahtisaari acknowledged. Most Kosovo Albanians want independence for the province, which has been under UN administration for more than six years. Belgrade says it must remain part of Serbia.
"If the parties would stick to the formal positions that they presented to us, there wouldn't be much work left for me," Ahtisaari said, "so I think obviously we have to try to move the parties from their present, fairly fixed positions. And that is what we are engaged in at the moment."
A Parallel Economic Process
Ahtisaari repeated his desire to complete talks on the province's final status within 12 months.
The UN's envoy emphasized the importance of improving economic conditions if a deal is to be struck. "It is very difficult to find any cooperation if people don't feel that they have a brighter economic future," he said.
The World Bank should play a major role, he argues, by providing finances to both Kosovo and Serbia and Montenegro. "I would even call [financial talks] parallel processes" to the debate about the region's political future, Ahtisaari said.
Ahtisaari named the European Bank for Reconstruction and Development, the European Union, and the UN Mission in Kosovo as other actors with an important role in boosting Kosovo's economy.
He welcomed recent support expressed by the international Contact Group for Kosovo, an informal grouping of countries -- including the United States, Britain, France, Germany, Italy, and Russia -- that came together in response to the wars in the Balkans in the 1990s. Ahtisaari met most recently with U.S. Secretary of State Condoleezza Rice. That meeting was followed by the appointment, on 19 December, of veteran U.S. diplomat Frank Wisner as a special U.S. envoy mandated to support Ahtisaari's efforts.
Spotlight On Kosovo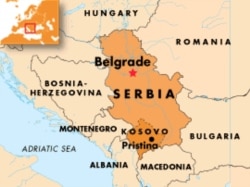 THE WORLD'S NEWEST NATION? The region of Kosovo has a population of more than 2 million, some 90 percent of whom are ethnic Albanians. It was one of the poorest regions in the former Yugoslavia, but has considerable mineral wealth and an enterprising population, many of whom work abroad but keep close contact with Kosovo. All ethnic Albanian political parties seek independence on the principles of self-determination and majority rule. They feel that Serbia lost its historically based claim to what was its autonomous province under the 1974 constitution by revoking that autonomy in the late 1980s and then conducting a crackdown in 1999 that forced some 850,000 people to flee their homes.
Since NATO's intervention that year to stop the expulsions, Kosovo has been under a UN administration (UNMIK). The UN has begun to gradually transfer functions to elected Kosovar institutions. The primary Serbian concerns are physical safety for the local Serbian minority, a secure return for the tens of thousands of Serbian displaced persons, and protection for historic Serbian religious buildings. The main problems affecting all Kosovars, however, are economic. Until Kosovo's final status is clarified and new legislation passed and enforced, it will not be able to attract the investment it needs to provide jobs for its population, which is one of the youngest and fastest growing in Europe. Prosperity is widely seen as the key to political stability and interethnic coexistence in Kosovo, as is the case in much of Southeastern Europe.
For an archive of RFE/RL's coverage of developments in the disputed region of KOSOVO, click here.