German Chancellor Merkel Arrives In Moscow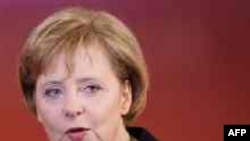 Chancellor Angela Merkel (file photo) (AFP) 16 January 2006 -- German Chancellor Angela Merkel arrived in Moscow today on her first visit to Russia since taking office.
In Moscow, Merkel is due to have talks with President Vladimir Putin. German officials said Merkel will try to persuade Putin to join the EU and the United States in moves to refer Iran to the UN Security Council over its controversial nuclear program.
Merkel is also expected to discuss with Putin the "strategic partnership" between Germany and Russia, as well as Russian natural gas supplies to the EU.
German officials said Merkel is also expected to raise the situation in Chechnya and other human rights issues.
Merkel is scheduled to spend just under six hours in Moscow. Her talks with Putin will be followed by a meeting with representatives of religious, social and business groups as well as leaders of human rights organizations.
(Reuters, dpa, AP)

THE COMPLETE PICTURE: RFE/RL's complete coverage of controversy surrounding Iran's nuclear program.
CHRONOLOGY
An
annotated timeline
of Iran's nuclear program.