New Images Show Abducted U.S. Journalist In Iraq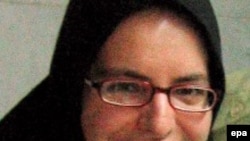 Jill Carroll, a U.S. reporter kidnapped in Iraq (file photo) (epa) 19 January 2006 -- The Arabic television channel Al-Jazeera has aired new images of the kidnapped U.S. journalist Jill Carroll.
The channel said the silent footage -- showing her surrounded by masked gunmen -- was extracted from the same tape the station had partly broadcast on 17 January.
Al-Jazeera said the video was issued by a group calling itself the Revenge Brigades.
Carroll was kidnapped in Baghdad on 7 January. Her translator was killed during her capture.
Al-Jazeera said the kidnappers have threatened to kill Carroll unless the United States frees all its Iraqi women in its custody.
Iraq's Justice Ministry have said that U.S. forces will release six women prisoners, but added that the move was unrelated to the kidnappers' demands.
The U.S. military did not confirm that the women would be released. On 18 January, it said it was holding eight female prisoners in Iraq.
(AP, Reuters)