Confusion Over Reported Release Of Female Iraqi Prisoners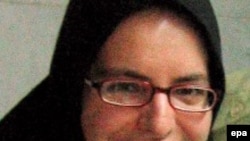 The kidnappers of journalist Jill Carroll demanded the prisoner release as a condition of her freedom (file) (epa) 19 January 2006 -- Iraq says U.S. forces plan to release six Iraqi woman detainees as demanded by the kidnappers of an American journalist. But Washington denies such a move is imminent.
An Iraqi Justice Ministry spokesman says freeing the six suspected insurgents is not linked to an ultimatum from those holding newspaper reporter Jill Carroll to release all female detainees in Iraq.
In any case, U.S. officials in Washington say there are no plans to speed up the release of Iraqi women detainees to free them in the near future.
The Arabic Al-Jazeera television reported on 17 January that the kidnappers of Carroll, a freelance journalist for the "Christian Science Monitor," had threatened to kill her within 72 hours unless their demand was met.
Carroll was kidnapped on a Baghdad street earlier this month and her translator was killed.
(compiled from agency reports)