White House spokesman Scott McClellan said the United States does not negotiate with terrorists.
The voice on the audiotape -- aired by Arabic television station Al-Jazeera -- warned of new attacks inside the United States.
But the speaker said Al-Qaeda was willing to "respond" to U.S. public opinion in favor of withdrawing troops from Iraq. Bin Laden did not specify conditions for the truce, but indicated that it was linked to U.S. troops quitting Iraq.
The Central Intelligence Agency said the voice on the tape was probably that of bin Laden.
It is the first time bin Laden has been heard from since December 2004.
(compiled from agency reports)
Who Is Ayman al-Zawahri?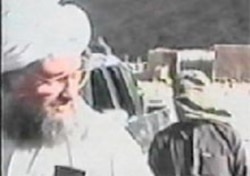 AYMAN AL-ZAWAHRI is regarded as Al-Qaeda's No. 2 authority. Although al-Zawahri is lesser known than Osama bin Laden, some observers say the deputy is just as powerful as the chief....(more)
See also:
Is Al-Qaeda Letter Sign Of Rift, Or Opportunity For Bush?