Ali Larijani, secretary of the Supreme National Security Council, is quoted as issuing the warning in an interview in Tehran with Britain's "Financial Times" newspaper.
Larijani is quoted as saying that if the Iranian case goes to the Security Council, Iran would be obliged to lift all voluntary measures.
The report said Larijani specified that such a step would include resuming industrial-scale uranium enrichment. Such work could be used for nuclear reactors or atomic weapons.
Larijani urged the European Union to reopen talks with Tehran. Negotiations broke down after Iran resumed nuclear research earlier this month, and the EU and United States now want the Iranian file brought to the Security Council for possible sanctions.
The governing board of the UN's International Atomic Energy Agency is expected to consider referring Iran to the Security Council at a special session on 2 February.
(Reuters, ft.com)
Who's Got The Bomb?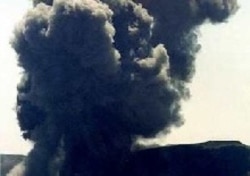 DECLARED NUCLEAR-WEAPONS COUNTRIES:
country warheads (est.) date of first test
United States 10,500 1945
Russia 18,000 1949
United Kingdom 200 1952
France 350 1960
China 400 1964
India 60-90 1974
Pakistan 28-48 1998
North Korea 0-18 2006
Notes:
Israel is widely believed to possess nuclear weapons, but it has not declared itself a nuclear-armed country.
South Africa constructed six uranium bombs but voluntarily dismantled them.
Belarus, Kazakhstan, and Ukraine all gave up the nuclear weapons that were on their territory when the Soviet Union collapsed in 1991.