The twin blasts in North Ossetia -- which borders the Georgian breakaway province of South Ossetia that seeks union with Russia -- effectively shut down the main pipeline supply Georgia with Russian gas at a time when the region is weathering a brutal cold snap. The same day, electricity supplies to Georgia were interrupted following an explosion at a transmission tower on Russian territory.
Saakashvili wasted little time in pointing the finger at Russia, claiming the attacks "were done so that Georgia will break apart...and fall into the hands of Russia."
Georgian parliamentary speaker Nino Burdzhanadze told Russia's Ekho Moskvy radio on 23 January that the attacks were "deliberate action against Georgia," adding that "I am more than sure that major Russian forces, including special services, are unfortunately interested in destabilizing the situation."
Russia immediately dismissed the allegations, placing the blame on pro-Chechen insurgents in North Ossetia, and the Russian Foreign Ministry said Saakashvili's comments "cannot be seen as other than hysteria."
Really So 'Hysterical'?
The Russian Foreign Ministry in a 22 January statement wrote off the Georgian response as "a mixture of parasitic attitude, hypocrisy...based on hopes to find Western patrons for their anti-Russian course." "If Tbilisi has made up its mind to finally spoil relations with Russia," the statement added, "it must have calculated all consequences of such a policy."
But while Russia's angles to characterize its neighbor's reaction as "hysterical," Georgia is not alone in its perception that Russia is using its wealth of natural resources to impose its will on those who rely on it for energy imports. Russia's recent gas disputes with Ukraine and Moldova, which have only temporarily been resolved, serve to provide credence to this view.
During a 22 December meeting of the Russian Security Council, President Vladimir Putin outlined his vision for the development of Russia into an "energy superpower."
As quoted by kremlin.ru, Putin told the council that "energy is the most important force of world economic progress. It always was and will be for a long time." He noted that Russia has "competitive, natural, and technological advantages" that could place it in a leading position in the global energy sector. "In fact," he conceded, "Russia has no other area in which to claim leadership."
This would be amended by Putin's "energy imperialism" strategy, so dubbed by observers, which entails pursuing a number of regional, domestic, and global objectives. The end goal, presumably, is for Russia to use its energy surplus to expand its political and economic influence, gain the status of an "energy superpower," and in so doing regain its former status as a political superpower as well. A new federal agency, chaired by Prime Minister Mikhail Fradkov and includes higher-ranking federal officials, business elites, and the heads of Russia's largest oil and gas companies has been created to oversee Putin's initiative.
The diversification of Russia's energy-export market and the overhaul of the country's infrastructure for the delivery of conventional energy is a crucial aspect of the plan.
The construction of new pipelines is already under way, examples of which can be found in the North European line to Germany, a route from western Siberia to Murmansk, and the Pacific Oil Pipeline from Tayshet to Nakhodka. The latter pipeline is expected to bring Russian oil to the markets of China, Japan, and Korea -- and potentially to the United States, Mexico, Indonesia, and Australia.
But Putin said priority should be given to the expansion of Russia's nuclear-power industry, and to the development of innovative technologies such as hydrogen fuel-cells.
The idea is that such a tack will better position Russia to benefit from Asia's rising appetite for energy, through the sale of nuclear technology and expertise as well as from natural resources.
At the same time, advised the president, "one should not to lose the former market of the Soviet Union."
There have been signs of maneuvering on the part of the government in keeping with this line of thought. On 12 January, Federal Atomic Energy Agency head Sergei Kiriyenko announced in Astana that Russia is negotiating with Ukraine and Kazakhstan to restore the former nuclear-industry complex that was supervised during the Soviet era by the Ministry of Medium Machine Building (Minsredmash). "All we have on the territory of Russia, Ukraine, and Kazakhstan is a single complex," Prime-TASS quoted Kirienko as saying. "We need to restore Minsredmash both for domestic goals and for the opening global market."
Position Of Authority
The recent rows with Ukraine, Moldova, and currently Georgia certainly found Russia in a good bargaining position as they showed that the interruption of gas supplies -- even for only a short time -- can have a huge regional impact.
But more telling is the power Moscow wields globally through its natural resources.
Within a day of the development of the latest crisis, Russia's Gazprom announced that gas from an alternate source was being pumped into Georgia via Azerbaijan. However, by that time the disruption had already helped push the global price for oil to nearly $70 per barrel. History reveals other similar examples -- notably the three-day cutoff of Being's access to the European market via the "Druzhba" oil pipeline in the 1970s.
Thus, it is clear what geopolitical weight Russia can have in using energy as a lever if it chooses to do so. And whether the events affecting Georgia have any relation to the new strategy or not, it is clear that Russia's search for a unified vision for its future has ended.
However, before pursuing such a path in earnest Russia would be well served to realize that doing so threatens to destroy all that it gained through its economic-reform efforts.
The overwhelming corruption that complemented Russia's massive natural-resource wealth was a major factor in the country turning away from an economy so dependent on that sector in the first place.
There is little reason to believe that a turn away from reforms will not usher in a new era of corruption whose weight could sink Putin's version of a modern Russian 'energy superpower" as well.
Interview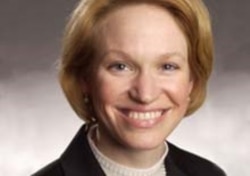 Celeste Wallander directs the Russia and Eurasia Program at the Center for Strategic and International Studies and is a CSIS senior fellow. Before joining CSIS, she was senior fellow at the Council on Foreign Relations in Washington, D.C., and associate professor of government at Harvard University. She is the founder and executive director of the Program on New Approaches to Russian Security. Her recent projects include work on U.S.-Russian security cooperation, the history of Russia and globalization, HIV/AIDS in Russia, and the 2004 Ukrainian presidential election. Among her books are "Swords And Sustenance: The Economics Of Security In Belarus And Ukraine" and "Mortal Friends, Best Enemies: German-Russian Cooperation After The Cold War." She is currently writing "Global Russia: Economics, Politics, And Security."
On November 29, 2005, she spoke with RFE/RL's Ukrainian Service about Russia's energy policies and how Moscow might be seeking to leverage its influence over its neighbors. Listen to the complete interview.
Real Audio Windows Media
To read a transcript of the interview,click here.
Related Articles: