MOSCOW, 23 January 2006 (RFE/RL) -- Putin made no secret of the fact that the reclusive Turkmen president had been invited to Moscow mainly to discuss gas issues.
Speaking to Niyazov ahead of their Kremlin talks, he called energy "the most important sphere of Russian-Turkmen cooperation" and said Russia was eager to boost cooperation in this area: "At the end of last year [we] signed an agreement on energy-resources supplies with Turkmenistan. I resolutely support your proposals to broaden our cooperation both in transport and production [of gas and oil]."
Supplying East And West
Niyazov, in turn, pledged to work closely with Russia in supplying oil and gas to customers both East and West. "Turkmenistan will steadily cooperate with Russia in this area and take part in large energy projects, cooperate jointly in the delivery and the exploitation of gas, and in the transport of Turkmen energy together with Russia, both toward the East and toward Europe -- this is in the interest of peace and security," Niyazov said.
Niyazov was expected during his visit to press his recurrent demand that Gazprom, Russia's state-controlled gas monopoly, pay more for Turkmen gas.
Gazprom currently pays $60 per 1,000 cubic meters of Turkmen gas, a sharp increase from the $32 per 1,000 cubic meters Russia was paying a few years ago. Niyazov is reportedly seeking to increase the price to between $80 to $85 per 1,000 cubic meters.
Russia Dependent On Central Asia?
But this is still a bargain compared to the price at which Russia resells gas to its European customers. During negotiations in December, Russia was asking Ukraine to pay $230 per 1,000 cubic meters of gas -- the going rate in Western Europe.
Moscow's recent dispute with Kyiv on the price of Russian gas exports, together with Russia's gas supply shortfalls during last week's cold snap, have highlighted a tendency that analysts have long been talking about: due to its failure to develop its own gas fields, Russia is increasingly reliant on energy-rich Central Asian states.
Chris Weafer, an oil and gas analyst for Alpha Bank, said that people have woken up to the fact that there is a very tight supply situation in Russia. "There isn't a lot of spare gas," he said, "and there won't be any major new sources of gas out of Russia for at least four to five years, because Russia hasn't been developing its gas production. So for the next four or five years, whatever extra gas Europe requires is probably going to have to come from Central Asian states like Turkmenistan and Uzbekistan."
Turkmenistan In The Middle
Turkmenistan, along with Central Asian neighbors Kazakhstan and Uzbekistan, found itself involved in the dispute between Russia and Ukraine over the price of Russian natural-gas exports. Moscow and Kyiv temporarily resolved the matter after agreeing that a percentage of the gas Ukraine receives would come from Central Asia, particularly from Turkmenistan.
Ukraine, a key transit zone for oil and gas to Europe, was also present at the negotiation table during Niyazov's visit.
Niyazov on 22 January met with Ukraine's fuel and energy minister, Ivan Plachkov, and with the head of Ukraine's Naftohaz, Aleksei Ivchenko. Ukraine is also eager to clinch gas deals with Turkmenistan both to meet its own needs and to supply European markets.
All three participants have remained enigmatic about what agreements might have been reached at the meeting -- Ivchenko simply told reporters that Turkmenistan, Ukraine's Naftohaz, and Russia's Gazprom had reached what he called "agreements of intensified cooperation."
Turkmenistan In The Middle
Turkmenistan In The Middle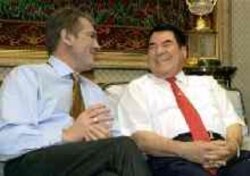 Turkmen President Saparmurat Niyazov (right) meeting with Ukrainian President Viktor Yushchenko in Ashgabat in March 2005

PLAYING BOTH SIDES: The Russian-Ukrainian gas dispute is testing Turkmenistan's self-declared policy of neutrality. Along with Russia, Turkmenistan is one of Ukraine's two biggest gas suppliers. Throughout the crisis, Ukraine suggested it could turn to Turkmenistan to make up any losses of Russian gas supplies. That puts Turkmenistan in a difficult position as it seeks to balance its relations with two capitals: Moscow and Kyiv...(more)
RELATED ARTICLES
Ukraine Signs Gas Deal With Turkmenistan
Kyiv Secures Turkmen Gas Supplies For 2006
Ukraine, Russia Spar Over Turkmen Gas
ARCHIVE
An archive of all of RFE/RL's coverage of Turkmenistan.