Yushchenko Says EU Membership Is Top Priority For Ukraine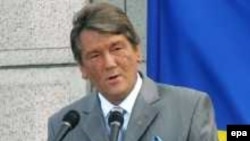 The public will weigh in on Yushchenko's pro-Western policies during March parliamentary elections (file photo) (epa) 23 January 2006 -- Ukrainian President Viktor Yushchenko says European Union membership remains the main strategic goal for Ukraine.
He made the statement today in a televised address to the nation marking the first anniversary of his inauguration.
He said restructuring Ukrainian-Russian relations is also on the agenda. Bilateral ties have deteriorated since Yushchenko defeated a Russia-backed candidate during Ukraine's Orange Revolution presidential campaign in late 2004.
Ukraine holds parliamentary elections on 26 March. Correspondents say the vote will determine whether Yushchenko will be able to continue his pro-Western policies.
(AFP)

An archive of RFE/RL's reporting and analysis on Ukraine's Orange Revolution.
REVOLUTION IN THE AIR: Listen to an audio portrait of the Orange Revolution from RFE/RL's archives.
Real Audio Windows Media