Addressing reporters in Tbilisi upon his return from Azerbaijan, Gilauri said Georgian experts had doubts about the reasons given by Moscow to explain the delay.
"They say the reason is a leakage of gas condensate and they cannot tell us when the [repair] work will be completed. Our experts believe a leakage of gas condensate is entirely ruled out because just two days ago this pipeline was working normally and nothing happened then," Gilauri said.
A spokesman for the Russian Emergency Situations Ministry in North Ossetia, Vladimir Ivanov, told Russian journalists earlier today that repair work on the pipeline was suspended because of the heightened risk of explosion caused by a gas-condensate leakage.
Twin explosions on 22 Janury damaged the pipeline, bringing Russian gas supplies to Georgia and Armenia to a halt.
Georgia accuses Russia of being responsible for the blasts, while Moscow denies the charge.
Gilauri today said Azerbaijan had already supplied Georgia with 3 million cubic meters of gas to help compensate for the shortfalls and could deliver more in the near future.
He also said Russia was not part of the agreement. Russia's Gazprom monopoly earlier said it would export gas to Georgia via Azerbaijan.
(Imedi TV, Civil Georgia)
Gas Facts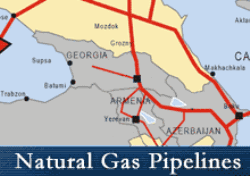 Click on the map for an enlarged image.
Ukraine consumes 70 billion cubic meters (bcm) of gas per year. It produces 20 bcm of its own gas, has a signed contract to import 40 bcm from Turkmenistan, and in 2005 was getting 29 bcm from Russia as payment for transit of Russian gas.
Ukraine sells some 7 bcm of gas a year to the West and places some in underground storage facilities. These facilities can hold 34.5 bcm.
Ukraine is the sixth-largest consumer of gas in the world and uses more gas than Poland, the Czech Republic, Hungary, and Slovakia combined.
Russia has proven gas reserves of 47 trillion cubic meters (tcm) -- the largest in the world ahead of Iran and Qatar.
Russia sells approximately 160 bcm to Europe each year. By 2015, Europe is expected to import 300 bcm, or 40 percent of its projected needs from Russia.
Russia's Gazprom is the world's largest gas company. It is the only company allowed by Russian law to export gas outside the borders of the CIS. It also owns the gas-transportation system and most of the gas fields in Russia.
The Russian state is Gazprom's majority shareholder , with a 51 percent share. The company's ownership rights changed as of the beginning of 2006, with Gazprom stock being sold on the open market. The Russian state, however, will continue to hold the majority stake.