PRAGUE, 24 January 2006 (RFE/RL) -- No group has claimed responsibility for the explosions and it is not clear whether there is any connection between the blasts and President Ahmadinejad's scheduled visit.
The two explosions occurred around 10 a.m. (6:30 GMT) local time. One bomb exploded close to a bank while the other reportedly ripped through the city's Natural Resources Department. Reports said fire had gutted the Saman Bank and that broken glass littered streets around the blast sites. An official said 46 people are reported injured in the two blasts.
"Enemies of the revolution, opposition forces outside the country, who engage in activities against Iran from beyond [the] borders and Britain are always to be blamed for the explosions in Ahvaz."
Colonel Salehi, an official with Iran's Police Emergency Center, spoke earlier today on Iranian state television: "Unfortunately we have been informed that, so far, in the Ahvaz bombing incidents [eight] people have been martyred in Kianpars in front of Saman Bank.... Based on investigations, the bombs that exploded were concussion bombs."
Iranian news agencies had originally reported three bomb blasts, but this figure was later denied by Ahvaz Deputy Governor Abdul Rahim Fazilatpour.
A local journalist in Ahvaz, Mojtaba Gahestuni, told Radio Farda that the number of casualties could be higher: "Based on comments by the head of the Saman Bank, 15 staff members and around 30 to 50 clients were in the bank at the time of the explosion and unfortunately some of them have been killed."
Health officials in Khuzestan are quoted by Iranian news agencies as saying that the precise number of casualties is not clear as the injured are being treated in several hospitals. Latest figures are due to be released later today.
New Bombs, Old Culprits?
Gahestuni suggested that today's explosions resembled blasts that killed more than a dozen people and wounded more than 100 in the same city in June and October.
"Well, certainly those who committed this horrible crime have some ties with the elements of recent months' explosions," he said. "Today's explosions are similar to previous explosions because the second explosion today happened only a few minutes after the first explosion and these bombs were placed in some of Ahvaz's crowded areas."
Iranian officials had blamed the October blasts on Britain, accusing British forces based in Iraq of backing ethnic-Arab separatist groups. Britain, however, strongly denied the charges and said they are without basis.
Ahvaz Governor Mohammad Jaffer Sarami told reporters that he thinks the same elements who were responsible for previous months' explosions are also responsible for today's blasts.
Today an unidentified security official told the Fars news agency that the attacks are "without any doubt" planned from outside the country and their aim is to create disturbances among Khuzestan's residents.
A local parliamentarian, Seyed Nezam Molahoveyzeh, also told journalists that "enemies of the revolution, opposition forces outside the country, who engage in activities against Iran from beyond [the] borders and Britain are always to be blamed for the explosions in Ahvaz."
A No-Go Area
Molahoveyzeh said that the explosions show that Ahmadinejad's trip to Khuzestan Province was cancelled because of "security issues."
He said: "We met the vice president yesterday to prepare for Mr. Ahmadinejad's visit to Ahvaz, but we received a call which said the visit, scheduled for today, had been cancelled."
The situation in Ahvaz has been tense since last April, when rumors suggesting the government was planning to change the ethnic composition of Khuzestan led to riots and the deaths of several people.
Ethnic Arabs make up about 3 percent of the country's population. Many of them live in Khuzestan, an oil-rich province. Ahvaz is heavily populated by ethnic Arabs.
The UN special rapporteur on the rights to housing, Miloon Khotari, said last August after a trip to Iran that ethnic and religious minorities in Iran -- including ethnic Arabs -- face discrimination in terms of access to housing, civil services, and land rights.
(Radio Farda Deputy Director Hamid Fatemi contributed to this report.)
Iran's Arab Minority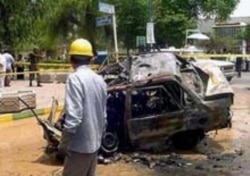 The aftermath of a car bombing in Ahvaz on June 12, 2005 (epa)
DISCONTENT IN THE SOUTH: There are approximately 2.07 million ethnic Arabs in Iran (3 percent of the total population of 69 million), most of them living in the region around the southern city of Ahvaz. The region has been the scene of numerous terrorist attacks and demonstrations over the years. Arab groups cite historical grievances, and they bemoan inadequate attention to their culture and language by state media....(more)
RELATED ARTICLES
Handling Of Ahvaz Unrest Could End With Televised Confessions
Bombing Accusations Highlight 'Differences And Disagreements'
Bombings In Southwest Blamed On Usual Suspect