PRAGUE, 25 January 2006 (RFE/RL) -- President Karimov announced during a visit to Moscow last November that Uzbekistan would join the Eurasian Economic Community.
Today, he is in St. Petersburg to sign documents on the accession to EvrAzES.
"Karimov has never been willing to sacrifice his own freedom to the Russians until now. So, I suspect he may try to get out of the deal. But, you know, once you start dancing with the devil you cannot get out of his grasp."
Uzbek presidential spokesman Beruniy Olimov tells RFE/RL's Uzbek Service that this will open new cooperation opportunities. "Naturally, Uzbekistan's joining the Eurasian Economic Community will create favorable conditions for member states to strengthen mutual historical links," he said. "New prospects for cooperation in the field of economy, communication, and construction of international autos and railways will emerge."
Joining The Club
Uzbekistan is to become the sixth member of EvrAzES -- which has sought since its founding in 2000 to establish an economic zone comprising Russia, Belarus, Kazakhstan, Kyrgyzstan, and Tajikistan. Moldova, Ukraine, and Armenia have observer status in the group.
Since acquiring independence in 1991, Uzbekistan has developed cooperation with the United States, Russia, and China in an attempt to keep a balance of power among the three in the region.
But now Uzbekistan seems to be fully embracing Russia and maintaining strong relations with China as Tashkent's ties to the West falter.
Analysts say Karimov decided to join the Moscow-led organization after the West condemned the Uzbek government for the way it dealt with the protesters in Andijon, which resulted in scores of civilian deaths.
Uzbekistan evicted U.S. forces from the military base in the country's south after Washington insisted on the conducting of an independent international investigation into the violence.
The European Union imposed a weapons embargo on Uzbekistan and in October banned a dozen Uzbek officials from entering the EU.
Moscow And Beijing Support Karimov
Moscow was one of the few -- along with Beijing -- to endorse the Uzbek troops' actions against the protesters in Andijon. Karimov then signed a treaty on "allied relations" with Russia during his November visit to Moscow. Now Uzbekistan's joining of EvrAzES gives Russia an opportunity to enhance its position in the energy-rich and strategically important Central Asian region.
Some observers predict that Tashkent is likely later this year to rejoin the Collective Security Treaty Organization that groups Russia, Belarus, Kazakhstan, Kyrgyzstan, Tajikistan, and Armenia. Tashkent withdrew from the group in 1999. Many analysts in the West see Uzbekistan's foreign policy reorientation as a success of Kremlin neo-imperialism.
Stephen Blank, professor of National Security Affairs at the Strategic Studies Institute of the U.S. Army War College, is one of them. "You see the Russian government making its No. 1 foreign priority the creation of a kind of neo-imperial bloc in the entire CIS based on energy and attempts to create military blocs, security blocs, and economic associations dominated by Russia which essentially diminishes the sovereignty of Transcaucasian and Central Asian governments."
However, Russian analyst Sergey Luzyanin at the Moscow Institute for International Relations (MGIMO) disagrees. He says the Kremlin's attempt to embrace the Central Asian countries is based on both pragmatic economic interests and political rationale: "In the last two to three years Russia hasn't been positioning itself as a former Soviet hegemony, as a donor. No, it has a very firm policy in Central Asia not as a donor, but as a very pragmatic and tough partner."
Dependence On Russia?
Experts agree that one of the reasons Russia tries to expand its influence over Central Asia is because of energy resources.
Aleksei Miller, chief of Russia's Gazprom state monopoly, visited Tashkent last week for gas talks.
Karimov on 24 January announced that Gazprom is planning to invest $1.5 billion to develop energy projects in Uzbekistan.
Agreements on Gazprom's investment are also expected to be signed in St. Petersburg today.
Sanobar Shermatova, a Moscow-based journalist covering Central Asia, warns that Uzbekistan may soon lose its energy independence to Russia: "First of all, Gazprom monopolized not only the transfer of gas from Uzbekistan, but the whole gas system of Central Asia. Gazprom started these efforts long ago and now we see the final stage of the grand operation."
Despite Uzbekistan's current rhetoric, it is not clear to what extent Karimov will be cooperative. Experts say the Uzbek president has so far been a difficult and unpredictable partner. Stephen Blank says, "Well, [Central Asian leaders] are interested in maintaining their power and if the Russians are the only people who help them guarantee their power and their wealth, then, as in Karimov's case, they will make the deal. But Karimov has never been willing to sacrifice his own freedom to the Russians until now. So, I suspect he may try to get out of the deal. But, you know, once you start dancing with the devil you cannot get out of his grasp."
Analysts express skepticism about EvrAzES's efficiency and say that Uzbek-Russian relations will likely predominate over multilateral cooperation.
Meanwhile, Uzbek citizens seem to have contradicting opinions about closer cooperation with Russia. Some people hope the improved relations can help solve some economic problems as many Uzbeks go to Russia -- many as illegal laborers -- amid high unemployment in Uzbekistan.
Others warn of the danger of Uzbekistan becoming dependent on Russia again -- as it was while in the Soviet Union.
Iskandar Khudoyberganov heads the Center of Democratic Initiatives in Tashkent. He said: "You see, if Uzbekistan will be closely linked to Russia's economy, it will hurt our economy seriously. I'll explain to you why. Russia's economy and agriculture need modernization. Uzbekistan needs the same. Russian plants producing machinery for agriculture, for example, will expand to Uzbek markets and, thus, provide their people with jobs. We, in our turn, will have to buy outmoded products and facilities. We won't get modern technologies simply because Russia does not have them itself."
Khudoyberganov and some others hope, however, that membership in EvrAzES will result in the elimination of visa regimes between Uzbekistan and its neighbors and boost cross-border trade -- which was the sole source of income for many Uzbek families until authorities cracked down on shuttle traders several years ago for what they say were security reasons.
(RFE/RL's Uzbek Service contributed to this report).
Uzbekistan's Ambassador To Tajikistan
Uzbekistan's Ambassador To Tajikistan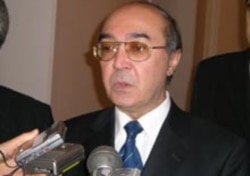 SHOQOSIM SHOISLOMOV, Uzbek ambassador to Tajikistan, spoke with RFE/RL Uzbek Service correspondent Habibullo Botirov on 14 December in the Tajik capital Dushanbe at a conference called the Forum For The Prevention Of Conflicts In Central Asia.
RFE/RL: Mr. Ambassador, at the opening session of this forum, you gave a speech and said that international organizations do not know the region of Central Asia very well and they often make wrong assessments of events in the region. What can you add to that statement?
Shoislomov: Yes, it is true that the region has many problems. But unfortunately, most employees of international organizations have never lived here. They don't know our life, our traditions, and customs. They don't have a deep knowledge [of the region]. Therefore, in their [reports], they portrait us as underdeveloped and backward. [Although], we can teach them 10 times more than they can teach us. There is such a thing as competency. They lack competency. These shallow opinions of theirs get reflected in some documents. They stigmatize us. Of course, we can never accept the stigma. One should think before putting opinions on paper.
The Central Asian states have 1,000 years of history. We face the hardest task in the war against religious extremism. When [the West] says it fights against religious extremism, they mean Islam. They try to portray our religion, Islam, from an absolutely different perspective in the world. In their opinion, Islam is an extremist religion. They try to say that it is a religion that goes against the West, against the whole world. Unfortunately, people in Western countries may accept these cliche.
RFE/RL: Erbol Shaimardanov, adviser to Kazakhstan's foreign minister, and some other participants said in their opening statements that Hizb ut-Tahrir has been included in the list of terrorist organizations. However, the organization can operate freely in some countries. How would you comment on this?
Shoislomov: It's a very correct question. If you want to fight against religious extremism, you should start with Hizb ut-Tahrir. But look at England itself. This summer it became a target of terrorist attacks. Hizb ut-Tahrir has its headquarter in London. [The British government] has given complete freedom to them. How can you understand it? We [the Uzbek government] has offered to everybody to fight against Hizb ut-Tahrir. As you see, many states have made a correct assessment of Hizb ut-Tahrir. But there are some governments, which consider themselves democratic, who gave complete freedom to Hizb ut-Tahrir. How can we treat an organization that comes from those countries and plot terrorist attacks on our territory? It's difficult to understand this. And they try to blame us for something.
See also:
Hizb Ut-Tahrir Challenges U.K. Government's Proposed Ban With Offer Of Dialogue
Uzbek Ties With Kyrgyzstan Worsen Amid 'Terror' Accusations
Uzbek Security Service Steps Up Work In Neighboring Countries