In a statement issued in Brussels today, the 25 ministers said they are prepared to act if Belarus fails to uphold international standards in the electoral process.
EU External Relations Commissioner Benita Ferrero-Waldner said the measures could include visa restrictions and economic sanctions.
Hardline President Alyaksandr Lukashenka is standing for a third term, and opposition politicians say they are coming under increased pressure in the runup to the 19 March poll.
Belarusian opposition leader Alyaksandr Milinkevich has said he faces serious obstacles while campaigning.
Milinkevich met with Ferrero-Waldner and some EU foreign ministers on the sidelines of the EU ministerial meeting in Brussels today.
(AP, Reuters, AFP)

Syarhey Haydukevich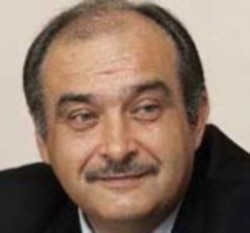 Syarhey Haydukevich, who was born in 1954 in Minsk, served in the Soviet Armed Forces in 1976-91, rising to the rank of colonel. From 1982 to 1984, he was a Soviet military adviser in Iraq. In 1992-94, Haydukevich was chairman of the government's committee for the social protection of employees of state security bodies, the Interior Ministry, the Defense Ministry, the Border Troops, and soldiers who participated in Soviet military operations abroad.

As the head of the Belarusian Liberal Democratic Party, he has been criticized by party members for his allegedly authoritarian practices and for the party's poor performances during recent parliamentary and presidential elections. In the 2001 presidential election, Haydukevich won 2.5 percent of the vote.

In June 2005, a Minsk court ordered opposition daily "Narodnaya volya," to pay 100 million rubles ($46,500) in damages to Haydukevich for defaming him in an article published in March. The article suggested that Haydukevich was involved in the illegal sale of Iraqi oil under quotas received from the regime of Saddam Hussein.
See also: