Iran Says No Legal Basis For UN Move On Nuclear Program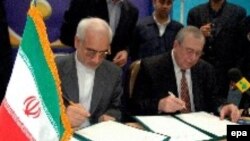 Gholamreza Aghazadeh (left), the head of Iran's atomic energy organization, believes a diplomatic solution can still be found (file photo) (epa) 31 January 2006 -- A senior Iranian official says there is no legal basis for Tehran to be referred to the UN Security Council over its disputed nuclear program.
Gholamreza Aghazadeh, the head of Iran's Atomic Energy Organization, said in Tehran today he believes that a diplomatic solution can be found to get out of the crisis.
Also speaking was the deputy head of Iran's Supreme National Security Council, Javad Vaeedi. He said Iran will not bow to Western demands that it halt nuclear research.
Earlier today, the five permanent veto-holding members of the United Nations Security Council agreed that Iran should be reported to the Security Council.
The statement said, however, that the Security Council should wait until March to debate the Iranian case, following the release of a new report on Iran's nuclear activities by the UN's International Atomic Energy Agency.
(AFP, Reuters)

THE COMPLETE PICTURE: RFE/RL's complete coverage of controversy surrounding Iran's nuclear program.
CHRONOLOGY
An
annotated timeline
of Iran's nuclear program.