Afghanistan Set To Launch New Drug War Strategy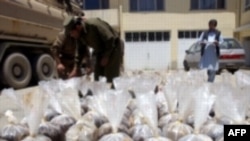 An opium seizure in Afghanistan in May 2005 (AFP) 1 February 2006 -- Afghanistan's Counternarcotics Ministry today said that a new antidrug strategy is to be implemented in the country.
The ministry released a statement saying that the strategy was prepared by the Afghan government and the UN's Office on Drugs and Crime.
Habibullah Qaderi, the Afghan minister for counternarcotics, says the new strategy is aimed at curbing the cultivation, production, trafficking, and consumption of illegal drugs with a view to their complete eradication.
(dpa)
Afghanistan's Musical Revival


BACK IN THE GROOVE Decades of war and the Taliban's five-year ban on music took their toll on Afghan classical music. Musicians have been trying to resuscitate the art since the end of Taliban rule. But they face serious economic and artistic challenges -- including the threat of possible attack by Taliban fighters if they perform in provincial areas...(more)


WATCH
View slideshow of Afghan musicians.
RealVideo