Rosenergoatom chief Sergei Kiriyenko said the reactors are essential if Russia is to increase the share of energy produced by nuclear sources to 25 percent, from the current 16-17 percent.
He also said Russia would need to restore production ties with nuclear-related industries in other former Soviet republics "to the maximum extent possible."
While the former Soviet Union's major nuclear-related industrial facilities are located in Russia, Kazakhstan is home to key uranium mining facilities and Ukraine manufactures turbines for nuclear power plants.
Kiriyenko also said today that his agency will be transformed into a joint-stock company within a year, but will remain fully state-owned.
(AP, Interfax)
Nuclear Dependence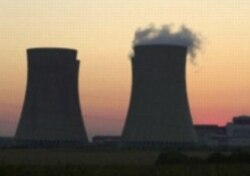 For a rundown by country of nuclear energy dependence, click here.
Who's building nuclear plants?
• Finland began construction on a new nuclear reactor last year.
• France has given approval for a similar one and has plans for another.
• Bulgaria is expected to award a contract this month for building two units.
• Romania has resumed building a power station after a 15-year lull.
• The Czech Republic has plans to build two more nuclear plants by the end of the decade.
• Switzerland, Sweden, Belgium, Italy, and Germany are all reconsidering previous plans to cap or phase out nuclear programs.
SOURCE: "The Christian Science Monitor"